CENIDE Sommerfest
Verleihung der Best Paper Awards
Ruhm, Ehre und 500 Euro – das sind die Auszeichnungen, die jährlich mit dem CENIDE Best Paper Award einhergehen. Dieses Jahr kamen rund 100 Teilnehmende beim CENIDE Sommerfest zu Vorträgen, Discussion Groups und der Best Paper Award Verleihung zusammen.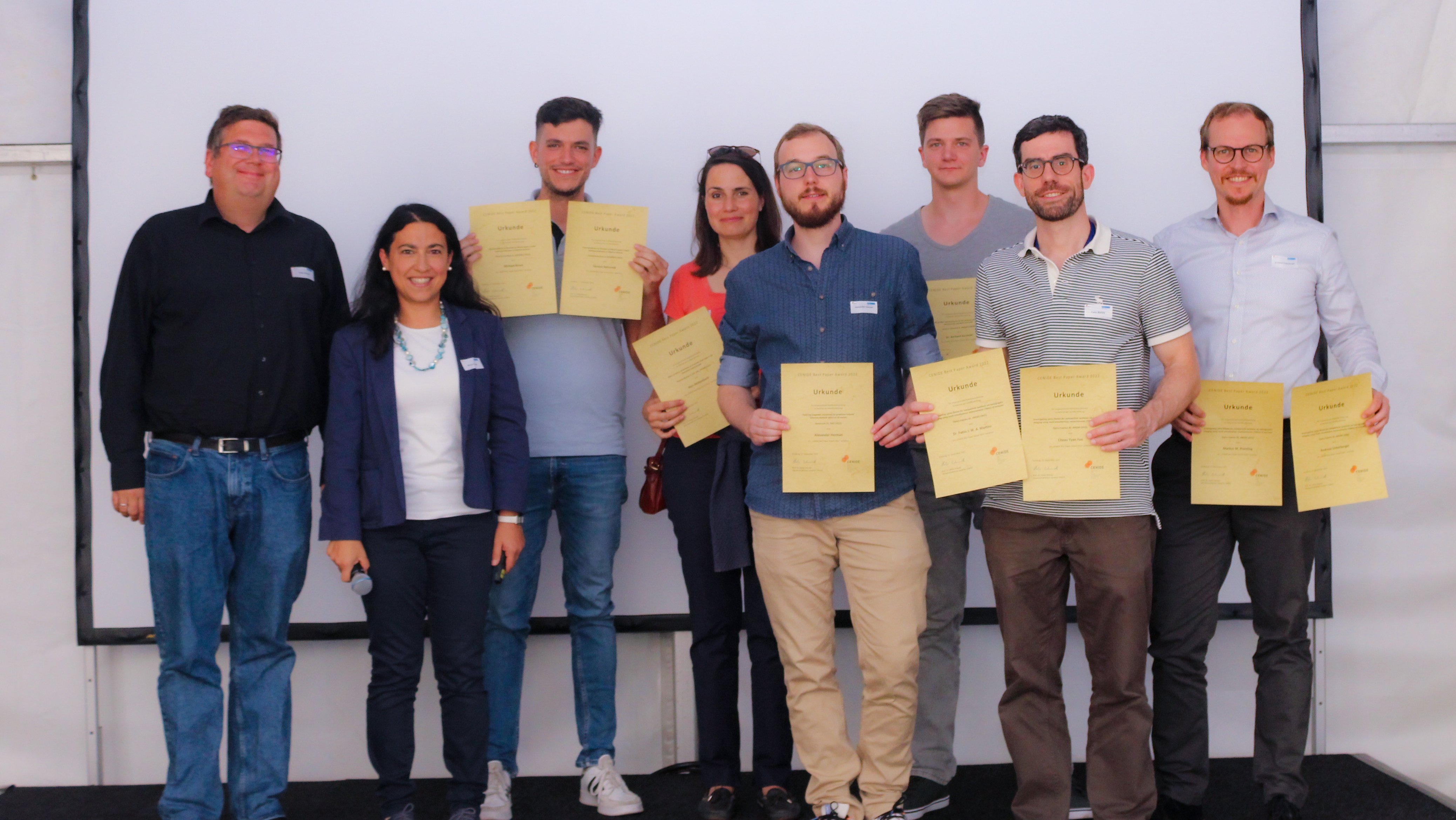 Aus 26 Nominierungen der sechs Forschungsschwerpunkte CENIDEs wurde jeweils ein Best Paper von einer zweiköpfigen Jury ausgewählt und mit je 500€ prämiert (Auszeichnungen gleichwertig, Reihenfolge zufällig):
Dynamic Processes in Solids
Effect of lattice excitations on transient near-edge x-ray absorption spectroscopy
Physical Review B 104, 144302 (2021)
Nico Rothenbach, Markus E. Gruner, Katharina Ollefs, C. Schmitz-Antoniak, S. Salamon,
P. Zhou, R. Li, M. Mo, S. Park, X.Shen, S. Weathersby, J. Yang, X. J. Wang, O. Šipr, H. Ebert,
K. Sokolowski-Tinten, R. Pentcheva, U. Bovensiepen, A. Eschenlohr, H. Wende
Jury: Stefanie Gräfe (University Jena), Helmut Zacharias (University Münster)
Gas-phase Synthesis of Nanomaterials
Investigating spray flames for nanoparticle synthesis via tomographic imaging using multi-simultaneous measurements (TIMes) of emission
Optics Express 30, 15524 (2022)
Cheau Tyan Foo, Andreas Unterberger, Fabio J. W. A. Martins, Markus M. Prenting,
Christof Schulz, Khadijeh Mohri
Jury: Katharina Kohse-Höinghaus (University Bielefeld), Sotiris Pratsinis (ETH Zurich)
Catalysis
The role of DNA nanostructures in the catalytic properties of an allosterically regulated protease
Sci. Adv. 8, eabk0425 (2022)
Richard Kosinski, Joel Mieres Perez, Elisa-C Schöneweiß, Yasser B Ruiz-Blanco, Irene Ponzo, Kenny BravoRodriguez, Michael Erkelenz, Sebastian Schlücker, Guido Uhlenbrock,
Elsa Sanchez-Garcia, Barbara Saccà
Jury: Alexander Genest (TU Wien), Jennifer Strunk (Leibniz Institute for Catalysis Rostock)
Magnetic Materials
Tailoring magnetic anisotropy by graphene induced selective skyhook effect on 4f-metals
Nanoscale 14, 7682 (2022)
Alexander Herman, Stefan Kraus, Shigeru Tsukamoto, Lea Spieker, Vasile Caciuc, Tobias Lojewski, Damian Günzing, Jan Dreiser, Bernard Delley, Katharina Ollefs, Thomas Michely, Nicolae Atodiresei, Heiko Wende
Jury: Nora Dempsey (Institut Neé, CNRS), Olle Eriksson (Uppsala University)
Nanomaterials for Health
Gold nanorods induce endoplasmic reticulum stress and autocrine inflammatory activation in human Neutrophils
ACS Nano 16, 11011 (2022)
Ronja Schirrmann, Michael Erkelenz, Kim Lamers, Oliver Sritharan, Milen Nachev, Bernd Sures, Sebastian Schlücker, Sven Brandau
Jury: Petra Kluger (Reutlingen University), Friedrich Simmel (TU Munich)
Functional Materials for Energy Applications
Electrooxidation of Alcohols on Mixed Copper-Cobalt Hydroxycarbonates in Alkaline Solution
ChemElectroChem 9, e202200267 (2022)
Michael Braun, Gereon Behrendt, Moritz L. Krebs, Patricia Dimitri, Piyush Kumar, Ignacio Sanjuán, Steffen Cychy, Ann Cathrin Brix, Dulce M. Morales, Jennifer Hörlöck, Bernd Hartke, Martin Muhler, Wolfgang Schuhmann, Malte Behrens, Corina Andronescu
Jury: Gabi Schierning (Bielefeld University), Irina Zenyuk (University of California, Irvine)
Ausgezeichnet wurden die jeweils fettgedruckten Personen.
Weitere Informationen:
Dr. Tobias Teckentrup, Tel. 0203/37 9-8178, tobias.teckentrup@uni-due.de